Monastero Monte Oliveto Maggiore – J.S.Bach Toccata e Fuga and …more (DL047)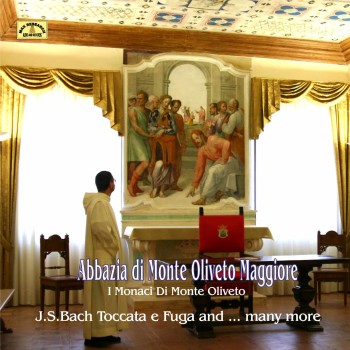 Title: J.S.Bach Toccata e Fuga and …more

Performer:
Organ: Francisco de Jesús OSB
 Monastero Monte Oliveto Maggiore – J.S.Bach Toccata e Fuga and …more (DL047) 
Tracklist:
1 Toccata e Fuga in re minore BWV 565
2 Amatissimo Gesù noi siamo qui BWV 731
    Beloved Jesus, we are here BWV 731
3 Colui che si abbandona al Buon Dio I-II BWV 691-690
    He who puts his confidence in the good Lord I-II BWV 691-690
4 Tripla Fuga a 5 voci in Mi b maggiore "Della Santissima Trinità" BWV 552,2
    "The Holy Trinity" Five-voice Triple fugue in E flat major BWV 552,2
5 Fantasia in do minore BWV 562
    Fantasy in C minor BWV 562
6 O Uomo, piangi i tuoi gravi peccati BWV 622
   Oh Man, bewail your great sins BWV 622
7 Prelude in Mi bemolle maggiore BWV 552,1
   Prelude in E Flat major BWV 552,1
Il Video
Brevi note sulla registrazione
CD dedicato a Bach.
Il fulcro dell'album è la Toccate e Fuga in Re minore, ma questo CD propone brani diversi che evocano anche misticismo e religiosità.
Il maestro Francisco de Jesús OSB, affronta l'opera con la sensibilità del religioso, dove si evoca il sovrannaturale, e con garbata decisione laddove prevale il "terreno".
Mi sento di dire che l'esecuzione della Toccata e Fuga sia una delle più ispirate che ho ascoltato, soprattutto se confrontata con quella dei grandi interpreti di Bach.
La riprese è stata effettuata nella splendida chiesa di Molte Oliveto Maggiore – SI.
L'acustica del luogo è quanto di meglio si possa immaginare per registrare l'organo.
Se poi lo strumento in questione è un Tamburini (opus 702, anno 1975), allora ci troviamo di fronte al connubio perfetto.
La ripresa evidenzia un'ambienza reale e ben definita, che colloca l'organo al centro della scena.
Come però deve essere, nei pieni sonori, non si percepisce la provenienza precisa del suono, perchè il riverbero della cattedrale restituisce un messaggio avvolgente e uniforme nello spazio.
Questo accade grazie sia alla struttura stessa della cattedrale, costruita in pietra serena e avvolta da un grande coro in legno, sia alla collocazione in alto dello strumento.
La qualità del suono che ne scaturisce è molto reale, specialmente se ascoltata attraverso un ottimo sistema multicanale ambientale.
Pertanto vi invitiamo ad ascoltare il CD, ma anche, e soprattutto, a verificarne la veridicità, facendo una visita a quello splendido monumento che è il Monastero di Molte Oliveto-Siena.
Buon ascolto a tutti
Massimo Piantini
Per info o acquisto /

For info or to buy

 Sull'email indicare nome e codice prodotto, e il motivo del contatto.

Grazie

 On email indicating name and product code, and a contact reason.

Thank you

     
Formato/

Media type

Prezzo/

Price

Spedizione/

Shipping

Available for download

 Audio File Wav 16bit/44.1KHz 
€ 4,9
CD (Richiedere la disponibilità-

Ask for availability

)
€ 9
€ 1
---