The Organ – Abbazzia di Monte Oliveto Maggiore (DL007)



Title: The Organ

Performer:
Organ: Franco Paturzo

Abbazzia di Monte Oliveto Maggiore  - Siena

| | | | |
| --- | --- | --- | --- |
| Formato/Media type | Prezzo/prize | Spedizione/Shipping | Acquista/Buy |
| Wav 16dB/44.1KHz – Complete Album | € 9 | € 0 | |
|  CD Audio | € 18 | € 0 | |
Tracklist:
J.S.Bach         1685 -1750
Toccata et fuga   in re min. BWV 565
1 Toccata  2'46
2 Fuga 7'13
J.S.Bach         1685 -1750
3 Liebster Jesu, mein Verlangen (Cantata 147)  3'28
A.Banchieri   1568 – 1634
4 Ricercare del III e IV tono 3'13
5 Toccata del III tono  2'46
C.Franck        1822 – 1890
6 Corale III 16'24
E.Capaccioli   1920 – 1994
Due momenti pastorali :
7 Lauda  3'13
8 Cantilena 3'20
F.Liszt            1811 – 1886
9 Preludio e fuga sul nome BACH  14'18
Tempo totale 56'43
Brevi note sulla registrazione
Terzo CD della ORGAN SERIES. Le sonorità prodotte da un qualunque strumento sono il risultato tra la bontà dello strumento stesso e l'ambiente in cui è collocato.
Questo è esattamente quanto si ascolta in questa registrazione, un grande suono prodotto da un ottimo strumento inserito in un'acustica davvero adeguata.
I microfoni principali posti nelle vicinanze dell'organo e quelli ambienza distanti, nella navata della chiesa, hanno raccolto il suono prodotto da questo insieme, dove la chiesa adornata con grandi quantità di legno, conferisce calore e chiarezza al messaggio sonoro.
La tecnica di ripresa, come sempre basata su grande semplicità e alta qualità dei componenti, ha valorizzato il suono, riproponendolo in maniera davvero credibile e vicino alle dimensioni reali, se naturalmente riprodotto da un sistema adeguato
Buon ascolto
Massimo Piantini
Brief notes on the recording
In this CD, four pieces of E.Capaccioli and A.Banchieri, Olivetans monks, are never been published before and was composed in the organ of ABBAZIA MONTE OLIVETO- Siena.
Enjoy the concert
Massimo Piantini
Ascolta un sample – Listen a sample
Dl007 capaccioli n7 by Massimo Piantini
Dl007 franck n6 by Massimo Piantini
Dl007 liszt n9 by Massimo Piantini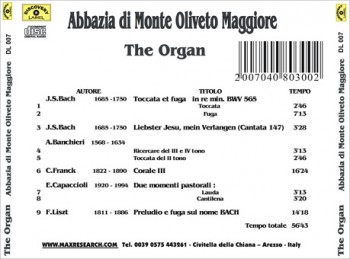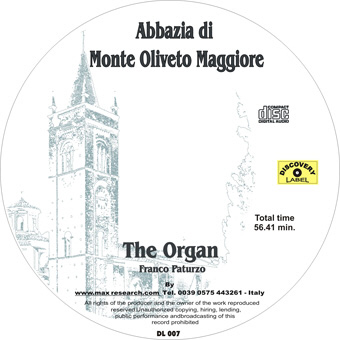 | | | | |
| --- | --- | --- | --- |
| Formato/Media type | Prezzo/prize | Spedizione/Shipping | Acquista/Buy |
| Wav 16dB/44.1KHz – Complete Album | € 9 | € 0 | |
| CD Audio | € 18 | € 0 | |