Roberto Pasquini Plays Karg-Elert (DL040)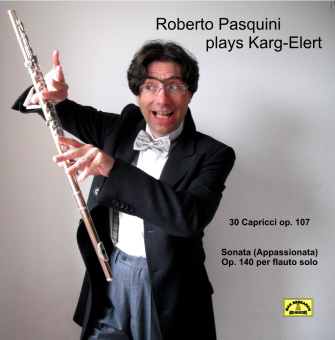 Title: Roberto Pasquini Plays Karg-Elert
Performer: Roberto Pasquini

First complete recording of the Caprices by Sigfrid Karg-Elert

| | | |
| --- | --- | --- |
| | | |
Elenco Brani
30 Capricci op. 107
n. 01 Tempo giusto 1.05
n. 02 Un poco mosso, ma non brillante 0.56
n. 03 Allegro alla Handel (non troppo brillante) 1.32
n. 04 Velocissimo e brillante 0.35
n. 05 Allegro giusto 1.05
n. 06 Appassionato e stretto 1.02
n. 07 Moto perpetuo 0.39
n. 08 Con molto brio 0.51
n. 09 Rapido e brillante 0.44
n. 10 Leggero e veloce 0.45
n. 11 Velocissimo e molto leggero 0.56
n. 12 Leggero, grazioso e veloce 0.49
n. 13 Leggerissimo e grazioso 1.03
n. 14 Moto perpetuo 0.42
n. 15 Mosso e leggerissimo 0.5
n. 16 Un poco mosso, umoristico 1.07
n. 17 Leggero veloce, giocoso 1.11
n. 18 Adagio (quasi cadenza) 1.17
n. 19 Vivacissimo, scintillante 0.48
n. 20 Ardito capriccioso ed assai mosso 0.53
n. 21 In tempo di Walzer 1.38
n. 22 Agitato ed appassionato 0.49
n. 23 Adagio appassionato (quasi recitativo) 1.27
n. 24 Rapido quanto e possibile (con suono sempre aguzzo) 0.37
n. 25 Un poco vivace e capriccioso 0.58
n. 26 Capriccioso, con civetteria 0.54
n. 27 Un pochettino mosso (ben articolato) 1.02
n. 28 Sciolto, elegante e rapido 0.49
n. 29 Velocissimo e frizzante 0.45
n. 30 Chaconne 3.27
Op. 140 per flauto solo
n. 31 Sonata (Appassionata) in fa diesis minore  4.03
Brevi note sulla registrazione
Il pianoforte e il violino hanno una consolidata tradizione di studi, capricci e brani didattici: basti qui ricordare i 24 studi di Chopin o i 24 capricci di Paganini.
Per quanto riguarda il flauto dobbiamo arrivare al '900 per trovare nei 30 capricci op. 107 di Karg-Elert un cahier di studi di alto livello artistico.
I capricci di Karg-Elert rispondono appieno alle nuove esigenze virtuosistiche del flauto Boehm abbinando le asperità tecniche con una veste musicale di grande interesse.  La loro brevità fa assurgere ogni capriccio ad una sorta di paradigma tecnico-espressivo, un aforisma denso di significato musicale. Il n. 3 è in stile barocco (alla Haendel scrive Karg-Elert), il n. 5 ricorda un allegro di una partita per violino di Bach, il n. 14 riecheggia in maniera evidente il capriccio n. 1 per violino di Paganini, il n. 21 un valzer che però ha perso la spensieratezza degli Strauss mentre il n. 30 è una ciaccona, un omaggio a Bach e all'arte della variazione e per questo di dimensioni maggiori rispetto agli altri capricci.
Dovunque emerge un furore irriverente, quasi futurista (Karg-Elert scrive nelle indicazioni "Il più presto possibile", "con fuoco", "umoristico", "ardito, capriccioso") e un cromatismo tra l'arcaico e il modernista.
Nonostante l'estremo virtuosismo di molti dei 30 capricci la loro giusta chiave interpretativa coincide tuttavia con il titolo della sonata per flauto solo op. 140 "Appassionata": solo suonandoli con passione o con un termine abusato ma pertinente "con il cuore" si riuscirà infatti a coglierne appieno il significato più profondo.
      Roberto Pasquini
Buon ascolto
Massimo Piantini
Ascolta un sample – Listen  a sample
Dl040-1 by Massimo Piantini
Dl040-16 by Massimo Piantini
Track List
       30 Capricci op. 107
No 01 Time just  1:05
No 02 A little rough, but not brilliant 0:56
No 03 Allegro to Handel (not too bright) 1.32
No 04 Very fast and brilliant 0:35
No 05 allegro giusto 1:05
No 06 Passionate and narrow 1:02
No 07 Perpetual motion 0:39
No 08 With much brio 0:51
No 09 Quick and brilliant 0:44
No 10 Light and fast 0:45
No 11 Very fast and very light 0:56
No 12 Light, graceful and fast 0:49
No 13 Lightweight and lovely  1:03
No 14 Perpetual motion 0:42
No 15 moves and lightweight 0.5
No 16 A smooth, humorous 1:07
No 17 Light fast, playful 1.11
No 18 Adagio (almost every) 1.17
No 19 lively, sparkling 0:48
No 20 Brave capricious and very moved 0:53
No 21 In time of waltz 1:38
No 22 Rough and passionate 0:49
No 23 Adagio passionate (almost recitative) 1.27
No 24 Quick as possible (with sound always sharp) 0:37
No 25 A very lively and capricious 0:58
No 26 Capriccioso, coquettishly 0:54
No 27 A little bit rough (well structured) 1.02
No 28 Loose, elegant and fast 0:49
No 29 Very fast and crisp 0:45
No 30 Chaconne 3.27
      Op 140 for solo flute
No 31 Sonata (Appassionata) in F sharp minor 4:03
Brief notes on the recording
The piano and violin have a long tradition of studies, caprices and educational tracks: suffice it to recall the 24 studies of Chopin or 24 Paganini caprices.
As for the flute we get to 900 to find the 30 caprices op. 107 of Karg-Elert cahier a study of high artistic level.
The caprices of Karg-Elert fully meet the new demands of virtuoso flute Boehm matching technical difficulties with a robe of great musical interest. Their brevity makes every whim rise to a sort of technical and expressive paradigm, an aphorism meaningful music. No 3 is a Baroque (Handel wrote the Karg-Elert), no 5 points out of a score playing Bach's violin, the No 14 echoes in an apparent caprice No 1 for Violin Paganini No 21 a waltz but lost the prosperity of Strauss and the No 30 is a chaconne, a homage to Bach and the art of variation and therefore larger than the other whims.
Wherever an apparent fury irreverent, almost futuristic (Karg-Elert writes in indications "As soon as possible", "with fire", "humorous," "bold, capricious") and a chromaticism  between the archaic and the modern. Despite the extreme virtuosity of many of the 30 caprices their right interpretive key, however, coincides with the title of the sonata for solo flute, Op. 140 "Appassionata" played with passion or just an abused term but applicable "with heart" is in fact able to fully grasp the deeper meaning.
      Roberto Pasquini
Enjoy the concert
Massimo Piantini
Per info o acquisto /

For info or to buy

 Sull'email indicare nome e codice prodotto, e il motivo del contatto.

Grazie

 On email indicating name and product code, and a contact reason.

Thank you

     
Formato/

Media type

Prezzo/

Price

Spedizione/

Shipping

Available for download

  Audio File Wav 24bit/96KHz or wav 16bit/44.1KHz 
€ 4,9
---