Opera Avenue… in corso d'Opera… – Controquintetto (DL039)



Title: Opera Avenue… in corso d'Opera…

Performer: Controquintetto
Soprano: Alessandra Meozzi
Tenore: Leonardo Melani

| | | | |
| --- | --- | --- | --- |
| Formato/Media type | Prezzo/prize | Spedizione/Shipping | Acquista/Buy |
| Wav 16dB/44.1KHz – Complete Album | € 9 | € 0 | |
| Wav 24dB/96KHz – Complete Album | € 9 | € 0 | |
|  CD Audio | € 18 | € 0 | |
Tracklist:
01 Elisir d'Amore Coro atto I°-G.Donizetti – Una Notte all'Opera.WAV
02 Elisir d'Amore Una furtiva lacrima-G.Donizetti – Una Notte all'Opera.WAV
03 Capuleti e Montecchi Oh, quante volte-V.Bellini – Una Notte all'Opera.WAV
04 Trovatore Duetto atto III°-G.Verdi – Una Notte all'Opera.WAV
05 Luisa Miller Quando le sere al placido-G.Verdi – Una Notte all'Opera.WAV
06 Traviata Addio del passato-G.Verdi – Una Notte all'Opera.WAV
07 Ernani Preludio-G.Verdi – Una Notte all'Opera.WAV
08 Bohéme O soave fanciulla-G.Puccini – Una Notte all'Opera.WAV
09 Turandot Tu che di gel sei cinta-G.Puccini – Una Notte all'Opera.WAV
10 Tosca E lucevan le stelle-G.Puccini – Una Notte all'Opera.WAV
11 Manon Lescaut L'appello-G.Puccini – Una Notte all'Opera.WAV
Fabiano Fiorenzani
Fabio Costa
Luca Benucci
Emanuele Antoniucci
Claudio Quintavalla
Brevi note sulla registrazione
Nel corso della storia della musica la trascrizione ha rappresentato, volta a volta, una necessità, un divertimento, un'elaborazione sperimentale. Pensiamo alla più consueta: da partitura a pianoforte. Schumann scrisse molte delle sue celebri critiche leggendo trascrizioni (riduzioni) pianistiche. Generazioni suonarono nei salotti opere e sinfonie sulla tastiera. Contemporaneamente si giocava a sviluppare le potenzialità dello strumento su elementi melodici preesistenti: basti pensare ai Lieder di Schubert trascritti da Liszt. E poi l'immensa letteratura per Banda, le trascrizioni multiuso che ebbero comunque il merito di far penetrare capillarmente i famosi motivi della produzione operistica italiana fin nei più remoti villaggi (ricordate la Banda che riceve il Gattopardo a Donnafugata, nel film di Visconti?). Perché dunque, se non più per necessità, non continuare a "giocare", come fanno i musicisti del Controquintetto? Si trovano sempre sorprese a sperimentare. Molta evidenza di voci secondarie, ad esempi,nel preludio di "Traviata": dovuta alle differenze nei timbri. Effetti "divertenti" nella chiusa di "Saper vorreste", nella "Siciliana", atmosfera giusta nell'introduzione a "D'amor sull'ali rosee", ecc.
Buon ascolto dunque, e buon divertimento.                                Cesare Mazzonis
Massimo Piantini
 Brief notes on the recording
In music history, transcription has been respectively a need, an entertainment and an experimental  work. The most common type is piano score. Many of Schumann's famous reviews were written by  reading piano transcriptions (reductions). Whole generations played operas and symphonies on their drawing-room pianos. At the same time, the instrument's potential was developed from existing melodic elements, suffice it to mention Schubert's Lieder transcribed by Liszt. Another example is the huge band literature and the multi-purpose transcriptions that promoted a widespread diffusion of well-known motifs of the Italian opera production in the most remote villages (do you remember the band received by Prince Salina in Donnafugata, in Visconti's movie The Leopard?). Even though no longer required, why not continuing to "entertain", like Controquintetto musicians do? While experimenting, we always encounter surprises. For example, more emphasis on secondary voices in Traviata's prelude, due to differences in timbers, "amusing" effects in the Saper vorreste conclusion and in Siciliana, the right atmosphere in the introduction to D'amor sull'ali rosee, and so on.
Enjoy your listening.                                                                                                    M° Cesare Mazzonis
 Massimo Piantini
Ascolta un sample – Listen  a sample
Tosca e lucean le stelle by Massimo Piantini
Elisir d'amore by Massimo Piantini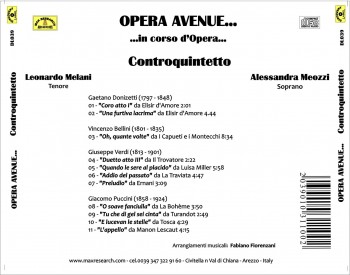 | | | | |
| --- | --- | --- | --- |
| Formato/Media type | Prezzo/prize | Spedizione/Shipping | Acquista/Buy |
| Wav 16dB/44.1KHz – Complete Album | € 9 | € 0 | |
| Wav 24dB/96KHz – Complete Album | € 9 | € 0 | |
| CD Audio | € 18 | € 0 | |