Space Light Color – Acoustic Workshop (DL003)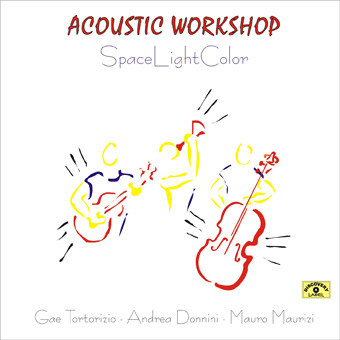 Title: Space Light Color
Performer: Acoustic Workshop

Tracklist:
01 TEQUILA  (Chuck Rio) 3,47
02 1 Improvvisazione  nella sala vuota per Contrabbasso Solo su tema KILLING ME SOFTLY WITH HIS SONG (Charles Fox) 3 08
03 FROM THE BEGINNING (Greg Lake) 4 02
04 THIS MASQUERADE (Leon Russel) 4 47
05 2 Improvvisazione  nella sala vuota per Chitarra Sola su tema YESTERDAY (J.Lennon P.McCartney) 2 03
06 GEORGY PORGY (David Paich) 3 35
07 SEPTEMBER (M.White A.McKay A.Williams) 4 47
08 3 Improvvisazione  nella sala vuota per Flicorno Solo su tema MY FUNNY VALENTINE(R.Rodgers L.Hart) 3 16
09 YOU ARE THE SUNSHINE OF MY LIFE (Stevie Wonder) 3 43
10 ON BROADWAY (C.Weil/B.Mann J.Leiber/M.Stoller) 3 57
11GOODBYE PORK PIE HAT (Charles Mingus)       3 53
12 4 Improvvisazione  nella sala vuota per Contrabbasso Solo su tema  SOLITUDE (Duke Ellington) 2 4
13 WHAT'S GOING ON (A.Cleveland M.Gaye R.Benson) 2 44
14 I REMEMBER CLIFFORD (Benny Golson) 5 01
15 5 Improvvisazione  nella sala vuota per Chitarra Sola su tema BLACK QUEEN (Stephen Stills) 2 46
16 YOU'VE GOT A FRIEND (Carol King) 4 51
Brevi note sulla registrazione
Un omaggio a "Gae" Tortorizio, amico e grande musicista.
In questo CD ci ha regalato una intensa interpretazione di Black Queen – Stephen Stills (trk 15). Penso valga la pena di possedere questo CD anche solo per questo brano.
CD dedicato al folk jazz. L'originale formazione (chitarra acustica, fiati, basso acustico) esegue brani che ormai sono divenuti degli standard (Yesterday, From the beginning, Tequila ecc.) interpretandoli con atmosfere jazz e creando emozioni e pathos.
La qualità di ripresa è la solita Original Master, dove gli obbiettivi sono la riproduzione dell'evento sonoro con l'ambienza e la timbrica del luogo di ripresa.
Nel disco, tra l'altro, vi sono 5 brani denominati "Improvvisazioni nella sala vuota" dove i musicisti si cimentano in brani solisti a partire da un tema noto, per sviluppare poi armonie personali, appunto improvvisazioni.
La disposizione microfonica è stata scelta in modo da recuperare l'ambienza della sala, che tanta parte ha avuto nel suono finale ottenuto. Particolare cura è stata messa sulla ricerca di un equilibrio fra gli strumenti, per avere l'amalgama che era presente durante le esecuzioni.
Le eventuali piccole differenze nell'acustica e nella timbrica fra i vari brani, sono dovute alle diverse condizioni ambientali trovate durante il periodo delle riprese. Queste diversità dimostrano, se ce ne fosse stato bisogno, che l'obiettivo era di riprodurre una reale fotografia acustica dell'evento, senza particolari manipolazione in sede di post produzione.
Il risultato finale è quello di avere gli strumenti con tanto spazio intorno, quello della sala da concerto.
Buon ascolto
Massimo Piantini
Brief notes on the recording
CD consacrated to the folk jazz, the original team of (acoustic guitar, trumpet & flugehorn and acoustic bass) is a good performer of songs like Yesterday, From the Geginning, Tequila ecc. and the quality of the registration is always ORIGINAL MASTER where the purpose is the real riproduction of the sound effect wiht the sound stage and acoustic of the record room.
Enjoy the concert
Massimo Piantini
Ascolta un sample – Listen  a sample
01 DL003 tequila by Massimo Piantini
15 DL003black queen by Massimo Piantini
---
Per info o acquisto /

For info or to buy

 Sull'email indicare nome e codice prodotto, e il motivo del contatto.

Grazie

 On email indicating name and product code, and a contact reason.

Thank you

     
Formato/

Media type

Prezzo/

Price

Spedizione/

Shipping

Available for download

 Audio File Wav 16bit/44.1KHz 
€ 4,9
CD (Richiedere la disponibilità-

Ask for availability

)
€ 9
€ 1
---