No Smokin' Bip Jazz Bop (DL005)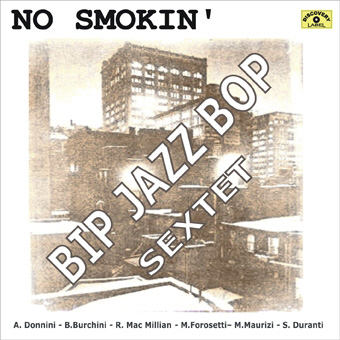 Title: NO SMOKIN'
Performer: Bip Jazz Bop
Tracklist:
01 NO SMOKIN' (Horace Silver) 4 08 1928
02 JOHNNY'S BLUE (Lee Morgan) 5 52 1938
03 JELLY ROLL (Charles Mingus) 5 14 1922
04 THIRD TIME AROUND (Hank Mobley) 3 45 1927
05 POLKADOTS AND MOONBEAMS (Jimmy Van Heusen) 6 19
06 LET'S COOL ONE (Thelonious Monk) 5 40 1917
07 DEL SASSER (Sam Jones) 4 13 1924
08 BLUES FOR 35 Girello s blues (Mauro Maurizi) 7 25 1978
09 Theme from  Mr BROADWAY (Dave Brubeck) 6 05 1920
10 BLACK NILE (Wayne Shorter) 5 22 1933
11 IN  WALKED BUD (Thelonious Monk) 5 04  1917
12 SPEAK LOW (Kurt Weil) 5 42
13 BOUNCING WITH BUD (Bud Powell) 2 54 1924
14 PORTRAITS (Mauro Maurizi) 2 26 1978
Brevi note sulla registrazione
CD jazz di puro hard bop con una formazione fra le più classiche: il sestetto. Eppure il ritmo dato dai musicisti riesce a trovare armonie originali e ad evocare emozioni sempre nuove. In mezzo a brani oramai divenuti degli "standard", due pezzi di nuova composizione, nati dalla vena del contrabbassista Mauro Maurizi, (già presente nel Cd Space Light Color) riprendono ed evolvono lo stile di questa musica nata molti anni fà.
La qualità di ripresa contribuisce a ricreare i fumosi ambienti da jazz club, dove questi ritmi sono nati e continuano a vivere.La ripresa audio è stata effettuata in più sessioni nel mese di marzo 2003 al teatro di Monte San Savino.
Le dimensioni medio piccole e le caratteristiche assorbenti di questo ambiente, hanno contribuito a ricreare l'atmosfera intima da jazz club voluta dai musicisti. I quattro microfoni sono stati disposti una coppia sui fiati e gli altri poco più dietro per riprendere con le dovute proporzioni e dimensioni sia la batteria che il bassi e le tastiere.
Tra brano e brano, vi sono delle diversità di acustica ambientale dovute alle riprese effettuate in tempi diversi e alla volontà di amalgamare i suoni secondo le esigenze dei singoli brani.
Tutto questo serve a connotare maggiormente il taglio da fotografia sonora che voglio dare alle mia produzione: riprodurre l'evento come si presenta ai microfoni di ripresa, senza aggiungere altro.
Buon ascolto
Massimo Piantini
Ascolta un sample – Listen a sample
---
Per info o acquisto /

For info or to buy

 Sull'email indicare nome e codice prodotto, e il motivo del contatto.

Grazie

 On email indicating name and product code, and a contact reason.

Thank you

     
Formato/

Media type

Prezzo/

Price

Spedizione/

Shipping

Available for download

 Audio File Wav 16bit/44.1KHz 
€ 4,9
CD (Richiedere la disponibilità-

Ask for availability

)
€ 9
€ 1
---