CONTROQUINTETTO
Controquintetto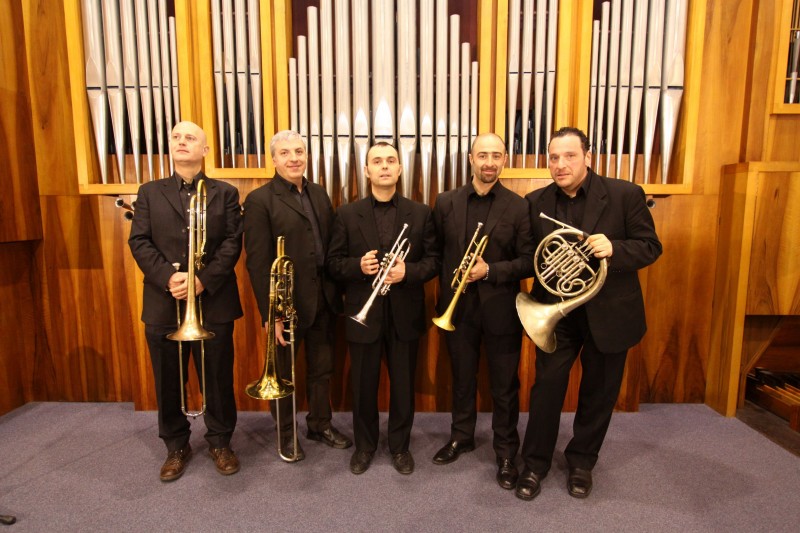 Tradizione e innovazione. Eleganza ed energia.
L'insieme di ottoni, in Italia, affonda le radici nella tradizione culturale della Banda, grazie alla quale, prima dell'avvento della musica riprodotta, un più vasto pubblico poteva accedere al repertorio classico e lirico.
Il CONTROQUINTETTO, in particolare, nasce con l'intento di affiancare uno o più ospiti d'eccezione. Nell'essenzialità di un piccolo gruppo, la presenza della voce solista stimola e rinnova uno stile che da sempre affascina ed emoziona le platee, scostandosi tuttavia dai più usuali canoni dell'accompagnamento orchestrale o pianistico e allontanando quell'immagine sacrale ed intellettuale che di solito aleggia sui concerti o sull'opera lirica.
La maggioranza dei componenti del CONTROQUINTETTO fa parte dell'Orchestra del Maggio Musicale Fiorentino. Tutti sono attivi da anni nel panorama musicale italiano ed europeo, sia in veste solistica sia cameristica.
Il gruppo ha al suo attivo numerosi concerti e partecipazioni ad iniziative culturali ed artistiche di vario genere, dove ha riscosso grande successo di pubblico, grazie anche alla particolarità ed unicità del concerto/spettacolo "Finch'han dal Vino". Ricordiamo, tra i tanti, un concerto nella suggestiva ambientazione dell'antico castello di Scarlino, nel cuore della Maremma Toscana, la partecipazione alle manifestazioniartistico/culturali inerenti il progetto "Vinum Bonum" organizzato dalla Regione Trentino Alto Adige e la presenza nel prestigioso cartellone dell'"Estate Regina", a Montecatini Terme, a fianco di artisti come Uto Ughi, David Helfgott, Ugo Pagliai ecc.Non ultimo l'appuntamento ricorrente nel cartellone della stagione autunnale del "Teatro dei Varii" di Colle val d'Elsa. Nel mese di maggio 2004 il CONTROQUINTETTO ha partecipato alle iniziative di sensibilizzazione a favore dell'AIDO e della ASL della Toscana con un raffinato appuntamento musicale.
L'evento è stato impreziosito dalla magica cornice del Cenacolo di Santa Croce, a Firenze, e dalla presenza di eminenti personalità nel campo della cultura, dell'arte e delle istituzioni. Recentemente il CONTROQUINTETTO si impegna in importanti progetti di opere liriche complete come "Boheme" e "La Cavalleria Rusticana".
CONTROQUINTETTO
Fabiano Fiorenzani
Fabio Costa
Luca Benucci
Emanuele Antoniucci
Claudio Quintavalla
CONTROQUINTETTO
Tradition and Innovation. Elegance and Energy.
In Italy, brass ensembles derive from the cultural tradition of band, through which vast audiences could access the classical and opera repertoire before the advent of reproduced music. In particular, CONTROQUINTETTO was founded in order to support outstanding guest artists. In a small essential ensemble, the presence of a solo voice stimulates and reforms a style that has always charmed and moved audiences, leaving the usual canons of orchestral or piano accompaniment and avoiding that sacred and intellectual image usually characterizing concerts and opera. Most musicians of CONTROQUINTETTO are members of the Orchestra of Maggio Musicale Fiorentino. All of them have been operating for years on the Italian and European music scene, both as solo players and in chamber orchestras. The ensemble performed many concerts and participated in cultural and artistic initiatives of various kind, having great success also because of the peculiarity and uniqueness of its show/concert Finch'han dal vino. We can mention, among others, a concert in the suggestive scenery of the old castle of Scarlino, in the very heart of Tuscan Maremma, and the participation in the artistic and cultural events related to the Vinum Bonum project of Regione Trentino Alto Adige. In May 2004, CONTROQUINTETTO took part in the sensitization campaign in favour of the Italian association of organ donors (AIDO, Associazione Italiana Donatori di Organi) and the regional health agency (ASL) of Tuscany, through an exceptional music event held in the wonderful setting of the Cenacolo of Santa Croce, in Florence, at the presence of important personalities in the world of culture, art, and institutions.